Ultima fertiliser is top of the list at Trent Bridge
07 Aug 2015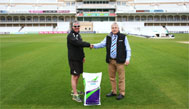 Steve Birks, head groundsman at Trent Bridge, is still delighted with Award Ultima fertiliser two years after he first started using it at Nottinghamshire County Cricket Club.
Steve and his team of eight prepare the Trent Bridge turf for the players of Nottinghamshire County Cricket Club, as well as international cricketers for Test and One-day international matches.
The product was recommended to him by Aitkens Sales Manager, Peter Fell and since the first application has become one of the most important products on this head groundsman's list.
The impact on colour and root density has been particularly pleasing for Steve, who has been at Trent Bridge since 1997, after starting off as a 16-year-old at Derbyshire.
"We've been using it for the last few years," he explains.
"It's improved the colour, the root depth and everything, so we've been very impressed with it. We started noticing a difference in colour and the density improved along with everything else within three months of it being applied."
As well as having a profound difference on the colour and root depth, Ultima can also help give assured release irrespective of climatic conditions using it's unique four-tier nitrogen combination along with providing a longer nutrient release pattern over a 12 week period.
Steve has also noticed a massive reduction in disease since using Ultima, which he applies all year round, with the effects easy to see at all times.
"In the winter we use the autumn and winter mix and the colour is green and fresh. We've hardly had any disease on it since we started using it, in fact we haven't sprayed for disease for quite a few seasons now."
Peter Fell, the Sales Manager who recommended Ultima at Trent Bridge, is delighted that it has been a success. "The positive effect it has had on the pitch is testament to the quality of the product. I will be watching to see how progress continues over the coming year."