Award Osprey Sport
12 Mar 2012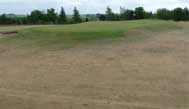 A new wetting agent specifically designed for fairways and sports outfields. It contains 3 different surfactants giving spreading, penetrating and rewetting.
Benefits:
Conserves water that is lost through surface evaporation while optimizing water performance from irrigation or rainfall.
Reduces disease potential and cost associated with poor turf performance.
Compatible in a tank mix with Award Nutri-Pro Fertilisers.
Three modes of action - now available for a fairway and sportsfield product.
Same technologies as used in greens grade wetting agents.
Economical application with easy water volumes.