Vision Hydrosport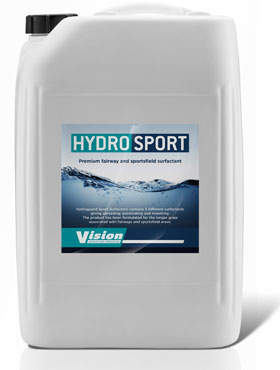 Hydrosport Surfactant contains 3 different surfactants giving spreading, penetrating and rewetting.
The product has been formulated for the longer grass associated with fairways and outfield areas.
This product will outperform other fairway and sportsfield penetrant products which are
designed only to flush water down through the profile quickly. These types of products will therefore not allow the rewetting or spreading of any available moisture in the rootzone for the plant to use.
Benefits:
Conserves water that is lost through surface evaporation while optimizing water performance from irrigation or rainfall.
Reduces disease potential and cost associated with poor turf performance.
Compatible in a tank mix with other Vision products.
Three modes of action - now available for a fairway and sportsfield product.
Same technologies as used in greens grade wetting agents.
Economical application with easy water volumes.
Size: 120Ltr
Pack Coverage: 120Ltr - 120,000m² (12 Hectares)
Amount of Product Required:10 Ltr/Ha
Water Volume Required:400-600 Ltr/Ha