Terralift T-Plex (3-0-6)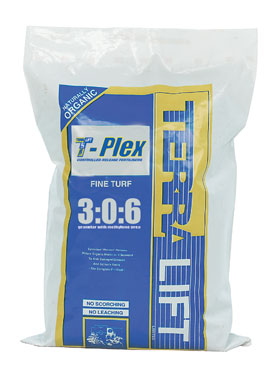 The T-Plex range of fineturf granular fertilisers combine an organic complex with methylene urea technology to provide extended release over 14 weeks. Whilst delivering all the essential nutrients for healthy turf, the additional microbial support ensures the building blocks are in place for soil friability, water percolation and CEC within the rootzone.
The first true safe winter fertiliser designed for winter colour. It helps to build soil reserves for the spring so the plant is stronger.
Safe winter fertiliser for colour
Low nitrogen regime nutrition
Builds soil reserves for spring
Contains Seaweed, calcium, fulvic, humic and amino acids
Size: 20Kg
Application Rate: 30-40 gms/m²
Pack Coverage: 500 - 667 m²
Kg of Nitrogen: 9 per Ha @ 30gms/m²
Kg of Nitrogen: 0 per Ha @ 30gms/m²
Kg of Potassium: 18 per Ha @ 30gms/m²