Blade 9 (Tee Rennovation, Landscapes, Slopes and Shade)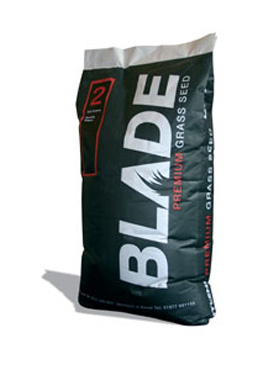 The Blade grass seed range is a premium quality range of mixtures. Together with the worlds largest amenity grass seed breeding and production company, we can now offer the very best, top rated varieties available.
A hard wearing mixture which establishes quickly throughout the season. The strong creeping red fescue gives a fine leaf and requires lower maintenance. The rhizomatous grasses give a good shoot density and tight sward aiding recovery. This also helps the soil binding characteristics. Ideal for slopes.
Cultivars:
20% Double 4Turf Perennial Ryegrass
50% Esquire Dwarf Perennial Ryegrass
30% Sergei Strong Creeping Red Fescue
Size: 20Kg
Sowing Rate: 35 - 50 g/m²
Over Sowing: 15 - 25 g/m²
Mowing Height: Down to 10 mm