Syngenta Primo Maxx (MAPP 13374)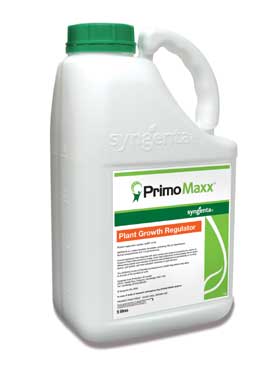 A Plant Growth Regulator (PGR) which is designed to regulate vertical grass growth and promote a high-quality, short, dense sward of healthier turf for better playing conditions. Treated turf has a bigger root mass which better resists the effects of drought and stress, and recovers far quicker.
Features:
For Use On All Turf Areas
Regulates Vertical Grass Growth
Produces Larger Root mass
Has approval for use in linemarking solutions
Rates:
Greens - 0.4Ltr/ha Every three to four weeks
Tees - 0.8Ltr/ha Every four to eight weeks
Fairways - 1.6 - 2.4Ltr/ha Every four to eight weeks
Rough & Semi Rough - 2.4 - 3.2Ltr/ha Every five to eight weeks
Size: 5Ltr / 10Ltr
Pack Coverage:0.5Ltr - 1500-12,500 / 5Ltr - 15,000 - 125,000 m²
Amount of Product Required:0.4 - 3.2 Ltr/Ha
Water Volume Required:300 - 600 Ltr/Ha
Note: It is your responsibility to ensure that any pesticide product for Professional use is used according to the Approved Code of Practice and that all operators are trained and certified in its use.
Product registered for Professional use in UK only.
ALWAYS READ THE LABEL. USE PESTICIDES SAFELY.