Kombi Classic Line Marker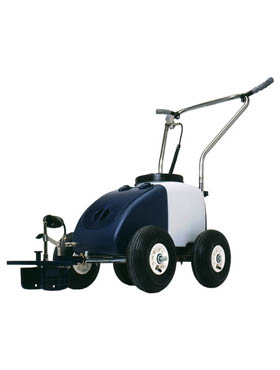 The Kombi Classic gives crisp and well defined lines with each mark. The adjustable tool-less quick fit wheeled knib means the Kombi Classic can be used on a variety of sports surfaces such as natural grass, concrete, asphalt, wood, artificial grass, rubber track and EPDM, straight out of the box.

Adjustable stainless steel handle bars suit all user heights along with an anchor point to make marking circles easy and hassle free. After marking, the knib can be lifted off and situated on to the bonnet stem for easy transportation. The heavy duty battery will give an 8-hour marking session before having to be re-charged.
1.5 up to 6" line marking width
25 Litre (6 gallon) paint tank
5 Litre (1.5 gallon) water tank
Centre or side marking
SLA battery
Stainless steel chassis
Diaphragm pump
LRR non-puncture tyres

Surfaces that the Kombi marks especially well:
Sand Filled Synthetic Turf.
Sand Based Synthetic Turf.
Rubber Crumb Based Synthetic Turf.
Concrete and tarmac (when used in conjunction with wheeled knib)
Size: Each