Vision Diamond Spray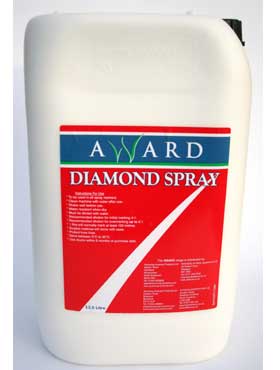 A range of quality line marking paints which have been tried and tested by professional groundsmen from many sports. We have had some great results and therefore we decided to add the products to our renowned Award range of products. Only products that are of the highest standards make it into the range.
Diamond Spray
A premium quality concentrated line marking paint for use with spray or transfer wheel line markers. This paint has been designed to mix easily with no effort required and still produce high quality lines. Diamond Spray contains high levels of Titanium which will produce an extraordinary bright white line which will last well even under wet conditions. Award Diamond spray has been used from small clubs to premier grounds throughout the country with much success over the years.
For use with spray and transfer wheel markers

Exceptionally bright white line

Rain resistant and long lasting

Recommended dilution for initial marking 4:1

Recommended dilution for overmarking up to 8:1
Size: 10 / 700 / 1000Ltr