Everris / Scotts Praxys (MAPP 13912)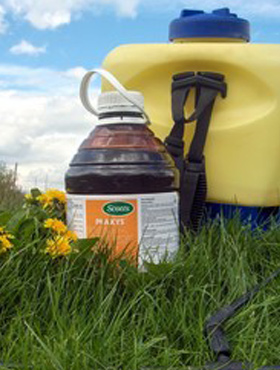 A systemic post-emergence herbicide. It combines three modern active ingredients and two different modes of action. Praxys rapidly enters target weeds, travelling through the whole plant to give complete weed destruction.

Contains Fluroxypyr-meptyl 144g/ltr, Clopyralid 80g/ltr, Forasulam 2.5g/ltr

Features:

Selective, systemic post-emergence herbicide
For managed amenity turf, lawns and amenity grassland
Rainfast within 1 hour
Max No. of applications per year - 1
Size: 5Ltr
Pack Coverage:25000 - 50000 m²
Amount of Product Required:1 - 2 Ltr/Ha
Water Volume Required:200 Ltr/Ha
Note: It is your responsibility to ensure that any pesticide product for Professional use is used according to the Approved Code of Practice and that all operators are trained and certified in its use.
Product registered for Professional use in UK only.
ALWAYS READ THE LABEL. USE PESTICIDES SAFELY.