ICL Enforcer (MAPP17274)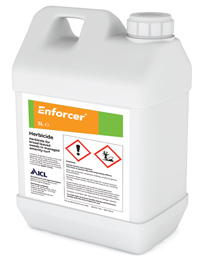 A translocated selective herbicide which targets a wide range of turf weeds. Enforcer's special formulation allows uptake through both the leaves and the roots providing exceptional weed control. Enforcer's powerful combination of 4 active ingredients ensures you are on target!


Traets: Common Dandelion, Creeping Buttercup, Knott Grass, Ribwort Plantain and
Contains 70 g/l 2,4-D, 70 g/l MCPA, 42 g/l mecoprop-P and 20 g/l Dicamba
Features:
Combination of 4 active ingredients

Idael for all sportsturf and lawns

Unique selective herbicide formulation

Max No. of applications per year - 1
Size: 5Ltr
Pack Coverage: 6,666 m²

Amount of Product Required: 7.5 Ltr/Ha

Water Volume Required:1000 Ltr/Ha
Note: It is your responsibility to ensure that any pesticide product for Professional use is used according to the Approved Code of Practice and that all operators are trained and certified in its use.
Product registered for Professional use in UK only.
ALWAYS READ THE LABEL. USE PESTICIDES SAFELY.