Barclay Gallup Biograde Amenity (MAPP 12716)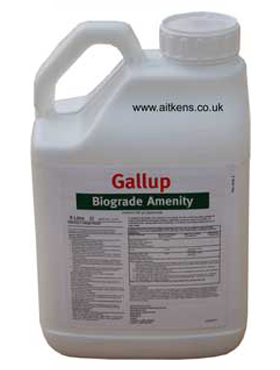 A non-irritant translocated non-selective weedkiller. Can be used on paths, roadways, around trees and along fence lines. Can be used up to and on water. Non hazard label useful for local authorities.
Contains Glyphosate 360g/ltr
Features:
Size: 1 Ltr / 5 Ltr
Pack Coverage:1 Ltr - (1667 - 3333) / 5 Ltr - (8333 - 16,666) m²
Amount of Product Required:3 - 6 Ltr/Ha
Water Volume Required:200 - 400 Ltr/Ha
Note: It is your responsibility to ensure that any pesticide product for Professional use is used according to the Approved Code of Practice and that all operators are trained and certified in its use.
Product registered for Professional use in UK only.
ALWAYS READ THE LABEL. USE PESTICIDES SAFELY.