Barclay Gallup Hi-Aktiv Amenity (MAPP 12898)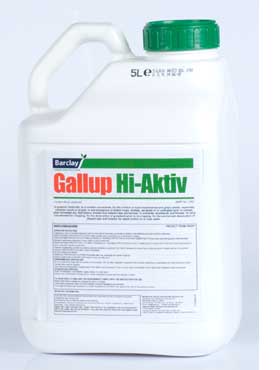 A premium strength non-irritant, high concentration glyphosate total herbicide. The concentrated formulation requires lower application rates and will save time. The fully wetted formulation means there is no need for additional surfactants. The formulation also gives excellent rainfast properties with absorption in the leaf within 1-2 hours.
Gallup HiAktiv Amenity controls annual and perennial grasses and most broad-leaved weeds in amenity, industrial, forestry and aquatic situations.

Contains 490g/ltr Glyphosate
High 490g/ltr Glyphosate Strength
Rainfast within 1-2 Hours
No Additional Adjuvants Required
Size: 5 Ltr
Pack Coverage:11363 - 45545 m²
Amount of Product Required:1.1 - 4.4 Ltr/Ha
Water Volume Required:100 - 250 Ltr/Ha
Note: It is your responsibility to ensure that any pesticide product for Professional use is used according to the Approved Code of Practice and that all operators are trained and certified in its use.
Product registered for Professional use in UK only.
ALWAYS READ THE LABEL. USE PESTICIDES SAFELY.