Everris / Scotts Roundup Pro Bio (MAPP 15539)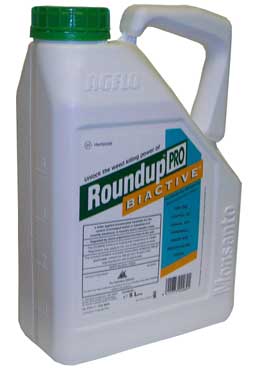 A low hazard total weedkiller which enters the plant quickly for improved control. For use in amenity, forestry, industrial and aquatic situations.
Contains Glyphosate 360g/ltr
Features:
Systemic
Excellent rain fastness
Hazard free label
Size:5 Ltr
Pack Coverage:5000 - 10,000 m²
Amount of Product Required:3 - 5 Ltr/Ha
Water Volume Required:100 - 200 Ltr/Ha
Note: It is your responsibility to ensure that any pesticide product for Professional use is used according to the Approved Code of Practice and that all operators are trained and certified in its use.
Product registered for Professional use in UK only.
ALWAYS READ THE LABEL. USE PESTICIDES SAFELY.