Everris / Scotts Roundup Pro Vantage (MAPP 15534)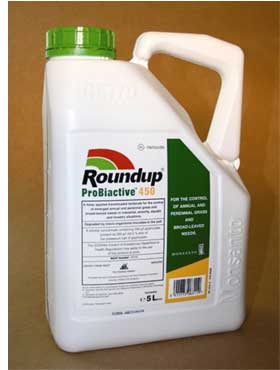 Roundup Pro Biactive 450 is a complete product incorporating a
performance enhancing surfactant system which improves retention, uptake
and translocation over traditional glyphosates. More glyphosate
reaches the weed's growing points, ensuring superior weed control.
With its unrivalled performance, enhanced cost-effectiveness, improved
convenience Roundup Pro Biactive 450 is the total solution for
professional weed control.
Contains 450 g/l glyphosate

Features:
Superior long-term and rapid control of difficult perennial weeds reduces the need for repeat treatments.
Excellent rainfastness, enabling more advantage to be taken of weather windows.
Hazard free label confirming its safety for spray operators, the public, wildlife and pets.
Degrades in soil and water leaving no residues.
Size:5 Ltr
Pack Coverage:Variable
Amount of Product Required:4 - 8 Ltr/Ha
Water Volume Required:150 - 250 Ltr/Ha
Note: It is your responsibility to ensure that any pesticide product for Professional use is used according to the Approved Code of Practice and that all operators are trained and certified in its use.
Product registered for Professional use in UK only.
ALWAYS READ THE LABEL. USE PESTICIDES SAFELY.