ICL Proshield (MAPP 17525)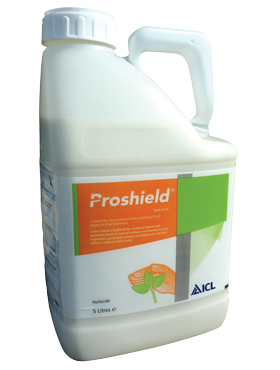 A barrier acting non-selective total herbicide for the control of a wide range of annual and perennial broad-leaved weeds and grasses on soft and gravel surfaces in amenity situations.
Contains 40 g/l diflufenican and 250 g/l glyphosate.
Features:
Residual
Non-hazardous
Fast acting
Size:1Ltr
Pack Coverage:11,110 m²
Amount of Product Required:4.5 Ltr/Ha
Water Volume Required:200 -400 Ltr/Ha
Note: It is your responsibility to ensure that any pesticide product for Professional use is used according to the Approved Code of Practice and that all operators are trained and certified in its use.
Product registered for Professional use in UK only.
ALWAYS READ THE LABEL. USE PESTICIDES SAFELY.