Vision Hydrofusion Granules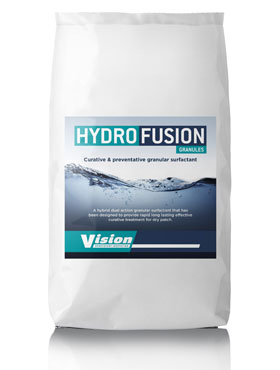 A hybrid dual action granular surfactant that has been designed to provide rapid long lasting effective curative treatment for dry patch.
The preventative surfactant will allow you to use the product in a programmed approach for maximum protection.
The curative surfactant will promote rapid recovery and restore stressed turf.
Ideal to use on greens and tees, spot treating hollows, humps and banks. Apply using a conventional spreader, by hand or a shaker pack. Spiking of the turf prior to application will enhance performance. Water after application to wash into the soil.
Benefits:-
Dual action granular surfactant
Preventative surfactants for maximum protection ideal to use in a programme
Curative surfactants to promote rapid recovery of dry patch and stressed turf
Can be used in all turf situations
Dust Free Granule
Easy To Apply
Use When Coring
Size: 15Kg
Pack Coverage:500 - 1500 m²