Salt Spreader Starter Kit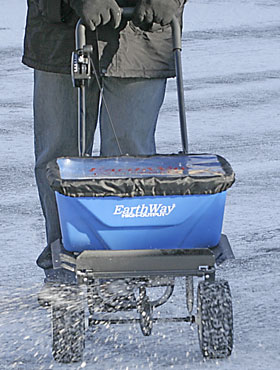 Ev-n-Spread 2040Pi + 5 x Bags of Rock Salt
Ev-n-Spred® 2040Pi Plus puts professional quality and features in a smaller lighter weight, partially assembled package. Specifically designed for spreading ice melt, rock salt, dry sand and other high volume application products on smaller areas.
High Speed gearbox
22 cm high-flotation pneumatic tyres on rustproof poly rims
30 kg Hopper capacity - rustproof poly construction
Solid rod on/off control linkage
Rock salt for winter de-icing, ensures maximum safety in icy conditions. Rock Salt is suitable for use on car parks, roads, paths around the club house. Available in robust bags for ease of handling. This high purity de-icing rock salt is the preferred option for winter gritting.